Hi all,
I have had a number of requests for more information, or a set of instructions for using the Sub Phatty editor in Live (and other DAWs). I'll see what we can put together. For now, here is a little something I just wrote in an e-mail, which I thought might be of wider interest.
Feel free to use this thread to post your own reports of what has worked well for you, or what you have questions about, and perhaps we can start here to establish what are the best practices for this tool.
Here is a note about parameter automation, if you're trying to record and play back hardware knob movements while using the editor. There is a link between Live, the editor plugin, and the hardware synth, which is missing by default and needs to be added manually. Namely, Live doesn't know that the hardware knobs are mapped to the plugin parameters. As far as Live is concerned, the Sub Phatty hardware is a generic MIDI controller, that sends CCs when you turn knobs... but Live doesn't know to record automation for a particular plugin parameter, unless you make that association yourself.
So, here is what you have to do.
in Live, go to the device view for the MoogSubPhatty editor plugin... unfold the device parameters, and click the "configure" button.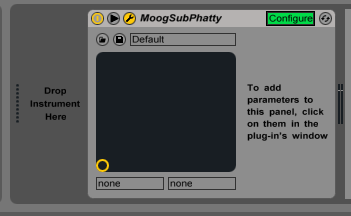 Now click on each panel knob and switch in the plugin UI, to add a slider for that parameter to Live's parameter list. Once you have all the parameters added to the device panel, you can map them to the MIDI coming from the actual Sub Phatty hardware. You do this the same way you'd map any MIDI controller to any plugin: type command-M to enter MIDI mapping mode, then click on a parameter slider on the device panel and turn or press the corresponding knob or switch on the Sub Phatty hardware control panel. You should see the MIDI CC number appear on the parameter slider in the device panel, indicating that the parameter mapping is now set. Click and adjust each control in turn, and press escape when finished to exit mapping mode.
To save all the effort of mapping, you can put the MIDI-mapped editor into an Effect Rack or Instrument Rack, then name and save the rack. When you recall that rack, it will recall the Sub Phatty Editor with all of its MIDI mapping intact.
Once the Sub Phatty is mapped as a controller to the plugin, you should be able to record and play back automation in the way you would expect it to work to begin with.
I haven't worked with a setup like this extensively so this isn't 100% road-tested info... but I am pretty sure it does work as described here...
-Amos