EricK wrote:Great looking studio!
Get some Mos-lab in that cabinet.

What about your trapset?
Thank you for the kind words! I do plan to add some MOS-LAB stuff. It looks very cool! Just waiting for the Canadian dollar to shore up a bit.
As for my kit, I'm always happy to show it off
It's a Gretsch Renown Maple kit; 8", 10", 12", 13" rack toms. 14", 16" floor toms. 20" kick (should have gone for 22" but still quite happy with it)
Cymbals are all Zildjian most of them old (before they stamped serial #s on them and before all the A / K crap). 8" K Splash, 8" Zil Bell, 10" A Custom Splash, 13" New Beat hats, 16" Rock Crash, 16" Armand Medium Thin Crash, 17" Rock Crash, 17" Fast Crash, 18" Medium Crash, 18" Medium Thin Crash, 18" China Trash, 20" Ping Ride. I also have a 20" Ride and 14" hats from the "Made In Canada" period.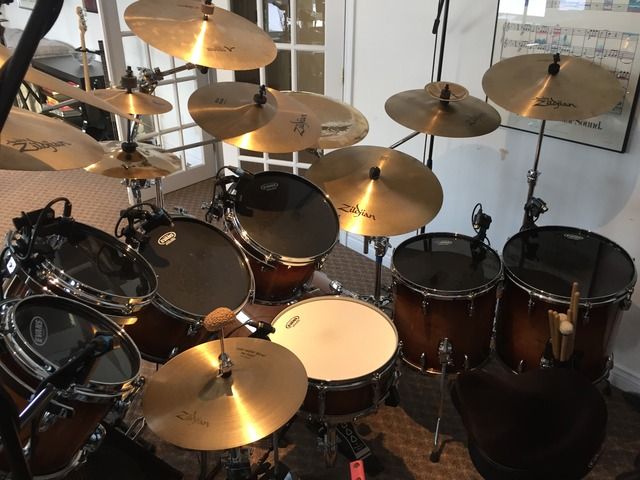 The heads are Evans Black Hydraulic which I find great for recording. Hardware is all DW and Pearl
Here's the whole studio side of the room...
I also have a Pearl Export kit with the same tom sizes (but since it's from the '80s they're 1" deeper all around) plus the kick is 22". I use that kit for gigs.